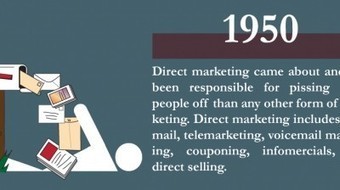 This infographic, by Flowtown, provides you with a humorous glimpse of how marketing has evolved over thousands of years. In fact, some of the olden days techniques are still being used today (e.g print ads). The way marketers communicate messages to others depends heavily on the technologies...
Herve GONAY's insight:
J'aime beaucoup cette infographie (que j'ai présentée au congres Innov Com) car elle représente avec humour l'évolution du Marketing dans le temps, et la comparaison entre l'homme des cavernes et l'usage de Facebook est excellente...
Source :
http://press.getplus.fr/p/4020815994/2014/05/06/hi...